Cognitive Hypnotherapist London. Before becoming a Cognitive Hypnotherapist in London, I spent 14 years working as a personal assistant and an administrator at some huge national companies. So I know all about the stresses and strains of the corporate world.
If you're struggling with anxiety or depression, I can help. If you're keen to break an addiction or say goodbye to a bad habit, I can help. And if you're concerned about your job performance and results, guess what? I can help.
I've spent my working life taking care of people.  First, in my 11 years as a nanny. Then 14 years in the corporate world. Now, as a Cognitive Hypnotherapist London, I'm lucky enough to be making real and positive changes to my clients' lives every day.
My qualifications and experience:
Diplomas in Cognitive Hypnotherapy, Analytical Hypnotherapy and Anatomy and Physiology
Hypnotherapy practitioner diploma (HPD)
General qualification in hypnotherapy practice (GQHP)
Neuro-linguistic programming master practitioner (NLP master practitioner)
Specialist smoking cessation training – the Simmons Method
Confident childbirth hypnobirthing trained
Specialist in Children's Hypnotherapy
Parts integration training – Dr Brian Roet
Member of General Hypnotherapy Register (GHR)
Member of National Council of Hypnotherapy (NCH)
Member of the Central Register of Smoking Cessation Therapists (CRSST)
I've trained under Trevor Silvester at the internationally recognised Quest Institute in London's Regents University and John Moonie at Hypno Perth in Scotland.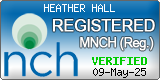 I'm a member of the National Council for Hypnotherapy (NCH), and I adhere to their strict code of ethics. Members must be insured for public liability and professional indemnity. Therefore my membership also involves taking a certain amount of continuous professional development each year.  This development means I can give my clients the best treatment possible.  Also registered with the QCHPA. They recently ran a study that proved the efficacy of Cognitive Hypnotherapy for anxiety and depression.  The research results were published in the Mental Health Review Journal.  Proving that Cognitive Hypnotherapy does work!
I am listed on NHS Choices.
At the end of 2015,
I was delighted to find out that I was a finalist as a hypnotherapist in the Health & Wellness category at the
.